Update 12/17/21: In early October, Carmen went in to be spayed & had her bi-lateral cherry eyes tucked. We were attempting to fix the cherry eyes, so that they would tuck & Carmen would keep her tear glands. Unfortunately, the surgery was unsuccessful. She actually started to look good, but then the gland re-prolapsed (see images below). Now our only choice is to surgically remove a portion of the gland and she will need additional medical care. The fundraiser goal has increased from $550 to $1000 to help cover the cost.
Carmen (also goes by Ginger now) has made great progress and her playfulness and loveliness has really come out. She has been living on a farm and has not showed interest in chickens, horses or even dogs. Carmen loves to follow around her foster parents and actively seeks attention (and treats). She is learning basic obedience and continues to do well. Once she has had her second surgery, she will be ready to go home and would do well in a home with another male dog & children over 10 years old.
Original Post: Carmen is a 21 month old female, Cane Corso in Texas. She has untreated bilateral cherry eyes, needs a spay, heart worm test, and all vaccinations. Cane Corso Rescue is raising funds to help cover the cost of the vetting. The previous owner lost her home due to COVID 19. Another rescue got in contact with Cane Corso Rescue and helped pay temporarily for a hotel so that  she could keep the dogs safe while Cane Corso Rescue secured a foster home. Carmen was surrendered along with her brother, Commanche and they are both in a temporary foster home awaiting vetting & evaluation. As far as we know and from what her surrendering owner tells us, Carmen has never had regular vet care.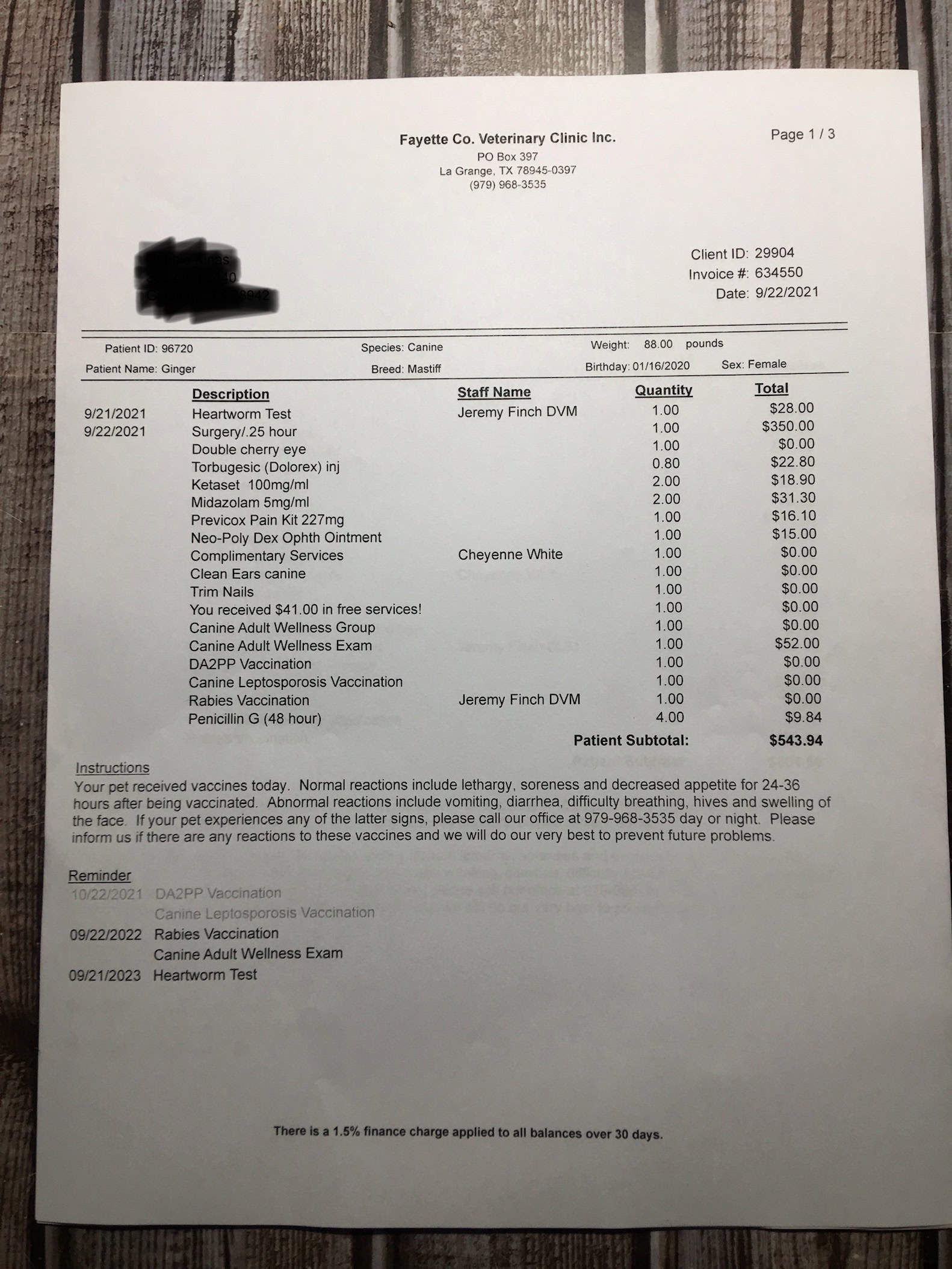 Donation Wall
Leila
Wish I could give more to this sweet girl 🖤
Rebecca Klemens
Get better soon! From another mastiff owner.
John Huggins
She's beautiful. Love to see her when she is fixed up.
Andrea Kristof
Get well soon! On behalf of Nalu, a fellow cane corso rescue.
eric johnson
Glad to help...new to the breed and I hope this puppy gets better.
Staci Sanford
Sweet babes, CCR will have you fixed up in no time